Blighty Booch Bramley Elderflower Kombucha
New flavour alert! We are super excited to introduce our new Blighty Booch Kombucha flavour. Bramley Elderflower is a classic British flavour combination, elevated by the slightly sour notes of kombucha.
You have been asking for a while now when we would be coming out with a new flavour. Apologies for taking so long, but we hold ourselves to a very high standard. 
We've changed things up a bit by mixing Oolong and Black tea for the base of this delicious and smooth new Blighty Booch. We definitely think you are going to like it – let us know if you agree!
Our award-winning organic kombucha is small batch brewed in Conwy, Wales. We will never add artificial sweetners, force carbonate with added CO2, pasteurise or otherwise mess with our kombucha. Our continuous goal is to make the best naturally fermented organic tea possible, full of living goodness delivered fresh to you. Keep chilled!
Shop Now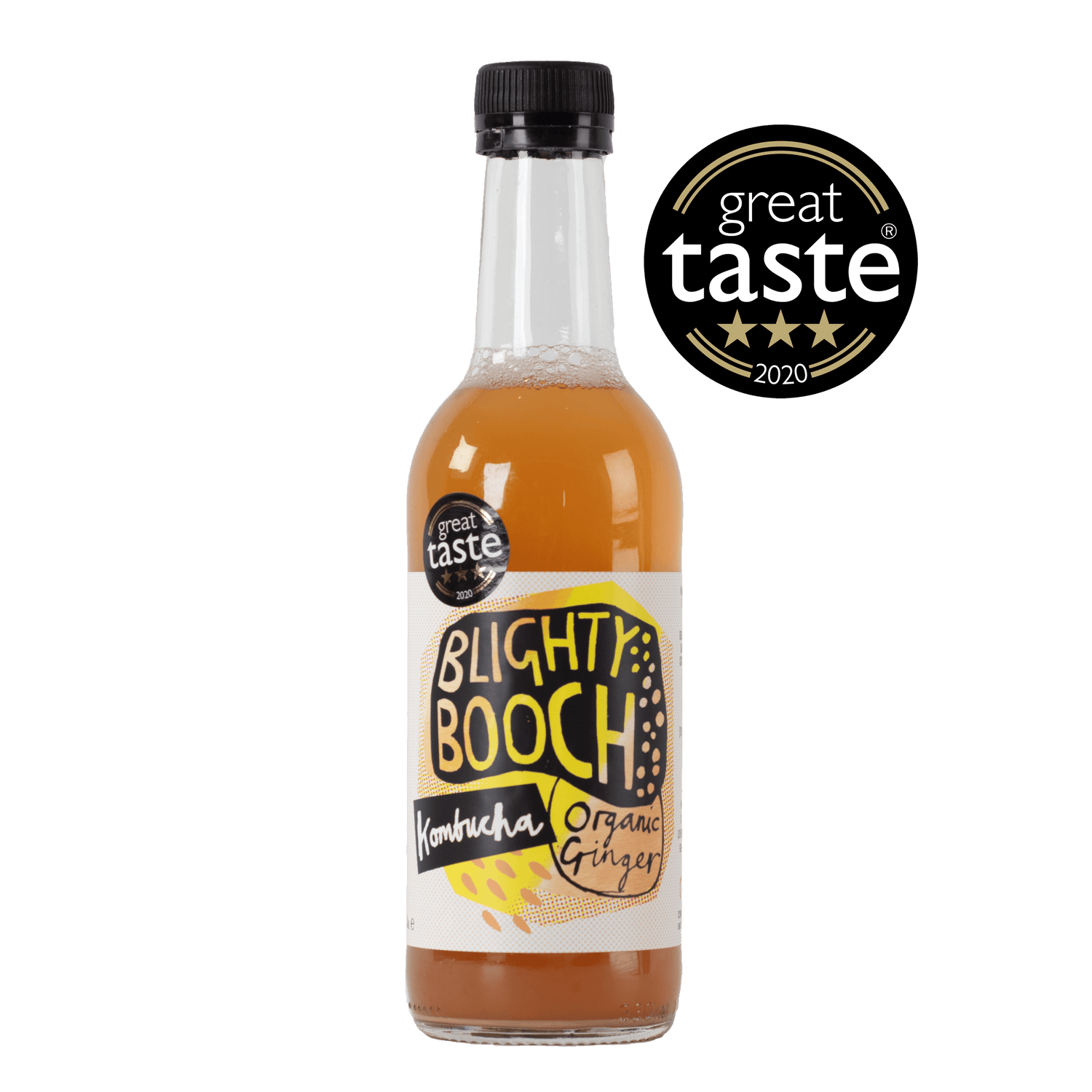 Award Winning Blighty Booch
We are so chuffed to have been awarded the highest accolade of Three Stars for our Blighty Booch Organic Ginger Kombucha by The Great Taste Awards 2020.
Judges called it "an utterly delightful and refreshing drink" and "a fine example of what a Kombucha should be". 
Get Some Ginger Goodness!
Blighty Brew, Blighty Baby and More...
Blighty Booch in the Press
"Refreshingly tangy with a good balance of sweetness and warming note of ginger"

- BBC good food

"it is no wonder Blighty Booch is a top favourite"

- Country & Townhouse

"a light, fruity beverage with delicious effervescance and warming notes of ginger."

- olive magazine

"That's Delicious!"

- Cerys Matthews
Latest Products and News
Our Award Winning Kombucha's Newest Gold Star

We've done it again! Our Blighty Booch Organic Original Kombucha has been awarded a Great Taste Gold Star. It now joins our three-star winning Organic Ginger Kombucha in the highest echelon of the Kombucha world. So you don't need to take our word for it – independently verified blind tasted as amazing Kombucha!

Convenience & Luxury

Loose-leaf tea accessories such as tea-pots, to-go-mugs and tea cups will help you to enjoy the luxury of Blighty Brew Organic Loose Leaf Tea. Down with polluting and inferior tea bags! All you need is water.

Blighty Booch Bag

Blighty Booch Kombucha Bags are now in!

These fabulous cotton tote bags feature our logo and happy-gut, dancing people. A great little accessory.

Available in three colours; pink, blue and orange. Which is your favourite?